Custom Logo Design and Advertising Package for Hovling's Outdoor Services of New Hampshire!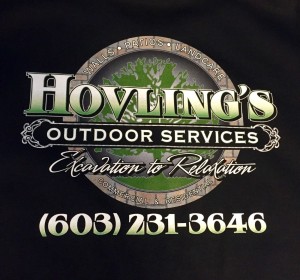 We were recently approached by Hovling's Outdoor Services to create an attractive, custom logo design and advertising package. Just like their motto "Excavation to Relaxation", we too were able to create a complete advertising package from start to finish.
A new custom logo design, custom DTG printed T-shirts, full color corrugated plastic yard signs, and more! We're very happy to have the team from Hovling's as a part of the Synergy family, and hope we can provide your business or organization the best quality printed and embroidered apparel, vehicle lettering, yard signs, business cards and more!
Who we are:
The staff at Synergy Signworks have been a leader in the commercial and motorsports graphics industry for a combined total of nearly 30 years, and we are proud to now offer the ease of shopping for all of our products online… 24 hours a day, 7 days a week! Our goals are simple: 1. Provide our customers with that one of a kind look that sets them apart from the others 2. Quick turnaround time at a reasonable price 3. Use quality products from leaders like 3M and Oracal to give our products the durability everyone should always expect.
Adapting to changes in the industry is something that we pride ourselves in here at Synergy, and we hope your online shopping experience is quick, easy, and enjoyable. From business signs, truck lettering, decals, banners, yard signs, business cards, screen printing, embroidery to race car wrap kits, full color printed and embroidered team race shirts, embroidered race hats, hero cards and more. We appreciate your time to view our website and look forward to serving you with all of your signage, apparel, and promotional needs!
SYNERGY [sin-er-jee] The interaction of elements that when combined produce a total effect that is greater than the sum of the individual elements, contributions, etc.