Trailer Lettering for Granite Coast Landcare. Synergy Signworks Makes It Stand Out!
Since 2008 Synergy Signworks has proudly served Granite Coast Landcare with all of their vehicle, equipment, and trailer lettering needs! We've also been GCL's primary source for their business sign, banners, and apparel needs. When owner Ben Brown contacted Synergy for new trailer lettering he had only one request, "I want it to stand out!". The smallest trailer in the fleet happens to carry the biggest advertising impact, featuring their symbolic leaf logo and reflective white vinyl text. Brown was so pleased with his new trailer lettering that's he's decided to add reflective lettering highlights to his other trailers as well! We've been happy to see Granite Coast Landcare grow into the NH seacoast's premier residential and commercial landscape and hardscape provider. Synergy is looking forward to completing two more trailer lettering upgrade in the upcoming weeks!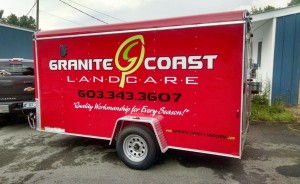 Who we are:
The staff at Synergy Signworks have been a leader in the commercial and motorsports graphics industry for a combined total of nearly 30 years, and we are proud to now offer the ease of shopping for all of our products online… 24 hours a day, 7 days a week! Our goals are simple: 1. Provide our customers with that one of a kind look that sets them apart from the others 2. Quick turnaround time at a reasonable price 3. Use quality products from leaders like 3M and Oracal to give our products the durability everyone should always expect.
Adapting to changes in the industry is something that we pride ourselves in here at Synergy, and we hope your online shopping experience is quick, easy, and enjoyable. From business signs, truck lettering, decals, banners, yard signs, business cards, screen printing, embroidery, and more to race car wrap kits, full color printed and embroidered team race shirts, embroidered race hats, and hero cards. We appreciate your time to view our website and look forward to serving you with all of your signage, apparel, and promotional needs!
SYNERGY [sin-er-jee] The interaction of elements that when combined produce a total effect that is greater than the sum of the individual elements, contributions, etc.