Truck Door Lettering NH: Londonderry, NH's S&K Construction Gets a New Look!
S&K Construction owner Gary Richard recently contacted us at Synergy Signworks to create a simple, 1-color logo for his truck door lettering nh project. His only request were it to be in a nice shade of blue… and readable of course. Modern print technology has taken truck door lettering nh to a whole new level. Fancy gradient lettering, background fills, and more. Although colors and graphics are endless nowadays, sometimes these elements can be overused and the end result is a layout very hard to read. Your #1 priority with ANY business promotional project should be readability. A new sign only has moments to be read by potential customers passing by, or a new truck door lettering nh job as you are passing by them. A simple, readable, 1-color die cut vinyl truck door lettering nh job can be a valuable advertising alternative for your business or organization!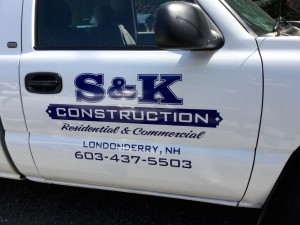 Who we are:
The staff at Synergy Signworks have been a leader in the commercial and motorsports graphics industry for a combined total of nearly 30 years, and we are proud to now offer the ease of shopping for all of our products online… 24 hours a day, 7 days a week! Our goals are simple: 1. Provide our customers with that one of a kind look that sets them apart from the others 2. Quick turnaround time at a reasonable price 3. Use quality products from leaders like 3M and Oracal to give our products the durability everyone should always expect.
Adapting to changes in the industry is something that we pride ourselves in here at Synergy, and we hope your online shopping experience is quick, easy, and enjoyable. From business signs, truck lettering, decals, banners, yard signs, business cards, screen printing, embroidery, and more to race car wrap kits, full color printed and embroidered team race shirts, embroidered race hats, and hero cards. We appreciate your time to view our website and look forward to serving you with all of your signage, apparel, and promotional needs!
SYNERGY [sin-er-jee] The interaction of elements that when combined produce a total effect that is greater than the sum of the individual elements, contributions, etc.